Top Hotels For Millennials To Stay At In New York City
Here is another segment of our curated collection of the hottest accommodations that strike a chord with millennial travelers. Sure, everyone wants to visit NYC but finding the right place to stay can be tricky especially on a budget. In addition to the Airbnb route, consider these amazing properties with an undeniable wow factor found in various boroughs (not just Manhattan).
We are especially excited about the Collective Retreats' glamping experience on Governor's Island. What a perfect summer staycation idea!
4-star historic boutique hotel
Location: New York City (just 0.4 miles from The Highline Park)
Immersive hotel experience
Location: Chinatown (Lower East Side) New York City
Location: Long Island City, Queens
Creatively inspired hotel located in a factory building
Location: Williamsburg, Brooklyn
Trendy budget hotel with pod-like accommodations
Location: Meatpacking District (West Village)
One-of-a-kind glamping retreat in a luxury tent
Location: Governor's Island
Scandinavian designed luxury boutique Hotel
Chic boutique hotel with a loft-industrial vibe
Location: Lower East Side
High-end design boutique Hotel
Location: The neighborhood of West Chelsea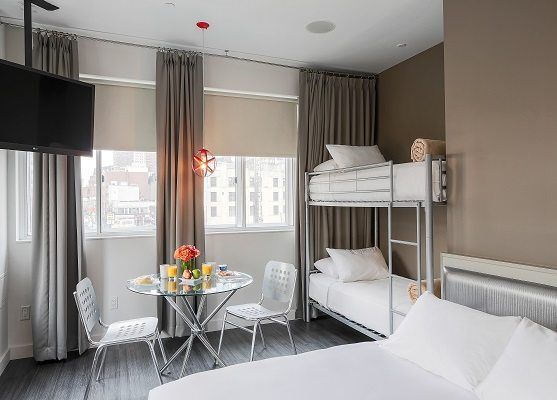 Boutique hotel with a distinct Brooklyn vibe
Location: Downtown Brooklyn
All-balcony boutique luxury hotel
Location: Williamsburg, Brooklyn
Hip communal based specialty lodging
Location: Williamsburg, Brooklyn
Location: Long Island City
Location: Williamsburg, Brooklyn
Japanese-inspired pod hotel for those on a tight budget
Location: Williamsburg, Brooklyn
Also, look into these previously featured accommodations (mostly chains):
Element by Westin
SIXTY Hotels
Hyatt Centric
EVEN Hotels
Hotel RL
NYLO Hotels
1 Hotels
Edition Hotels
Freehand Hotels
NoMad Hotels
Yotel
Ace Hotel
Moxy Hotels
Aloft
Hotel Indigo
TO BE CONTINUED...
Stay tuned for the next post about more millennial-friendly places to stay in London!
Interested in staying at one of these awesome hotels?